Official Strathmore University Fee Structure 2023/2024 – PDF Download — Latest Update. The Authority of the Strathmore University has released the amount payable as school fees for the 2023/2024 academic session.
Who is this Information For?
Strathmore University Prospective candidates who are offered provisional admission or probably seeking admission into the Strathmore University Undergraduate, Diploma and Certificate Programmes for 2023/2024 academic session are hereby informed that the management of the institution has released the Fee Structure.
What Are the Current School Fees of Strathmore University?
If you are seeking Admission into Strathmore University, it is best to be fully aware of the current tuition fees, and this knowledge will help you to avoid Admission Mistakes. See below;
Strathmore University Fees Structure Schedule
The Certified Financial Analyst (CFA) level 1 – Ksh 105,000.

(Want to pay in instalments, deposit – Ksh 80,000 then the rest in one instalment.)
Therefore, to get a comprehensive fee structure of any course, Contact the Strathmore University – Website, Address, Phone Number & Email or simply send an email to info@strathmore.com.
Payment Procedure
Fees Paid In Cash should be deposited into a Strathmore University Collection Account either at:
Standard Chartered Bank (any branch in Kenya) Account No. 010 204 484 4 000.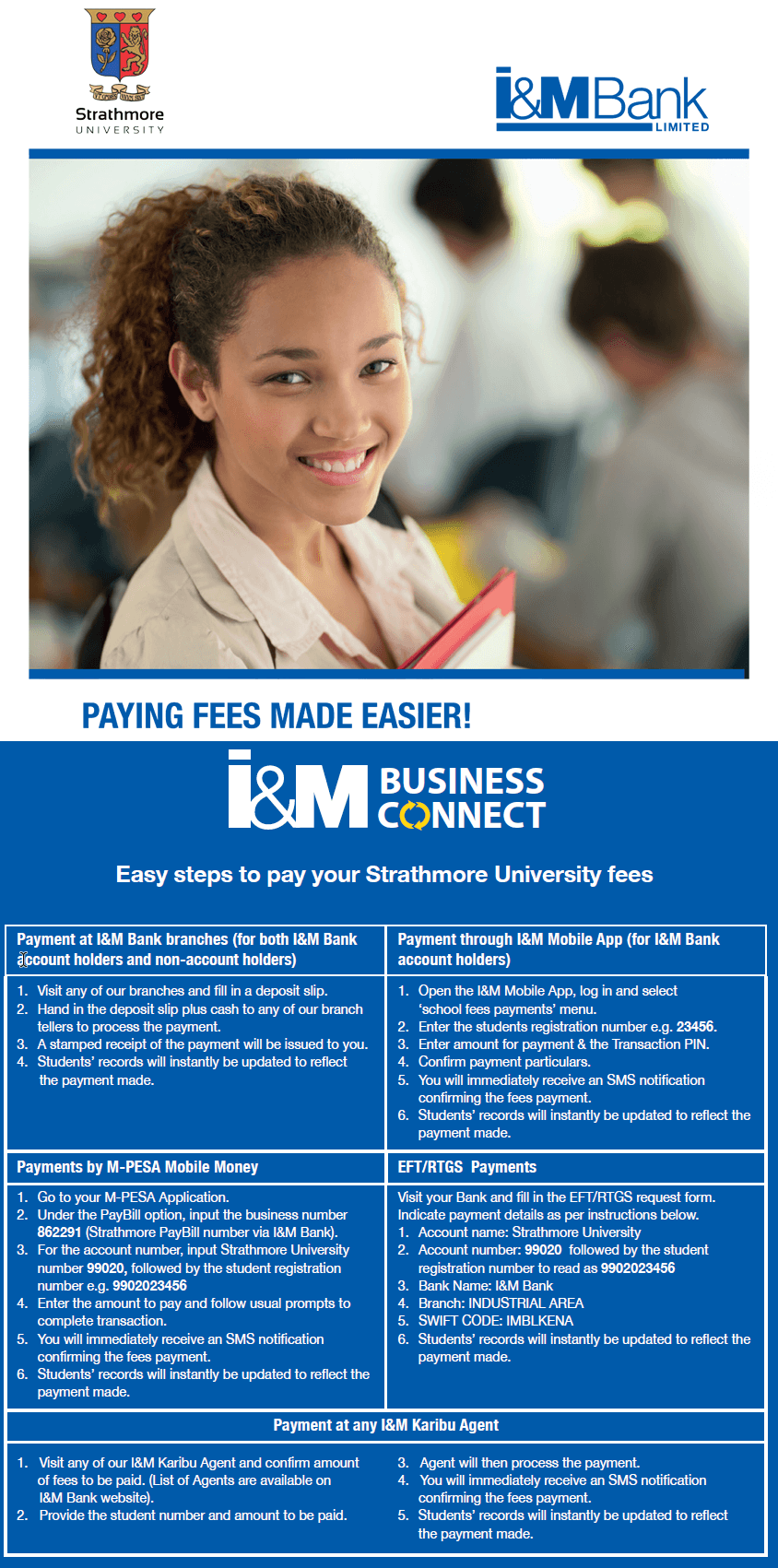 Karen Branch
CfC Stanbic Bank (any branch in Kenya). Account number has a Strathmore University number (99020) and the student number (e.g. 123456) the account number will be 99020123456.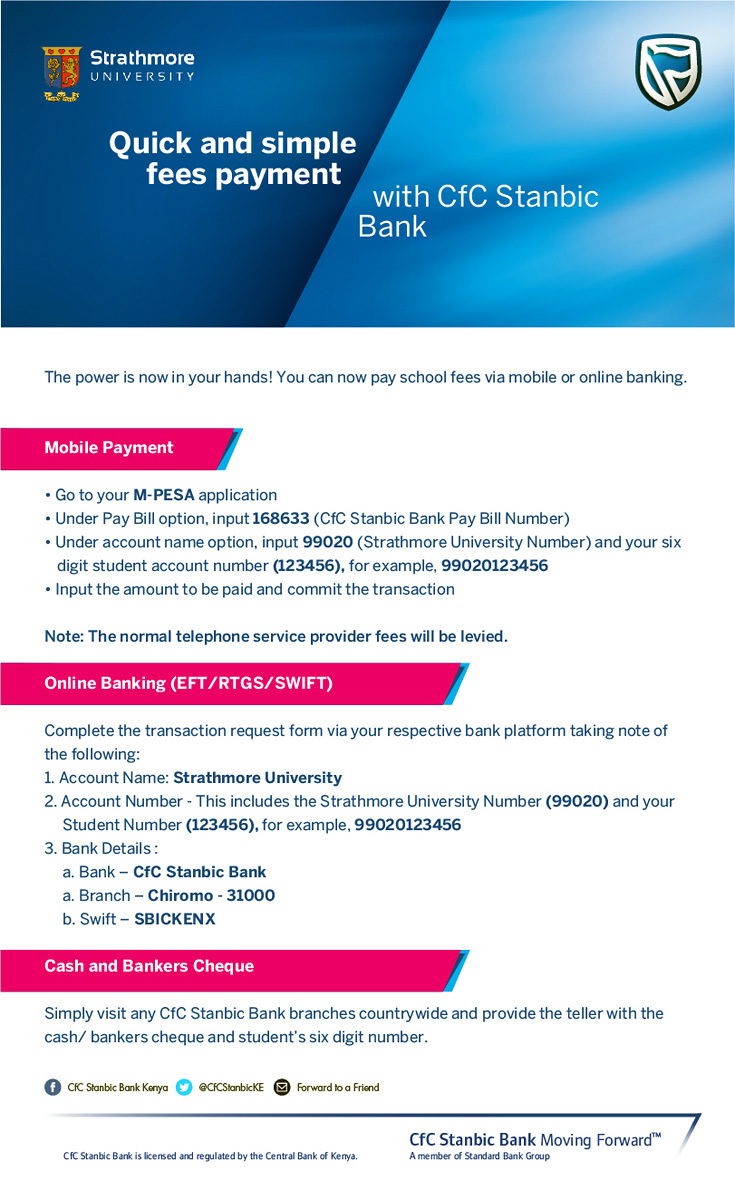 Chiromo Branch
Co-operative Bank of Kenya (any branch in Kenya) Account No. 01129 1604946 00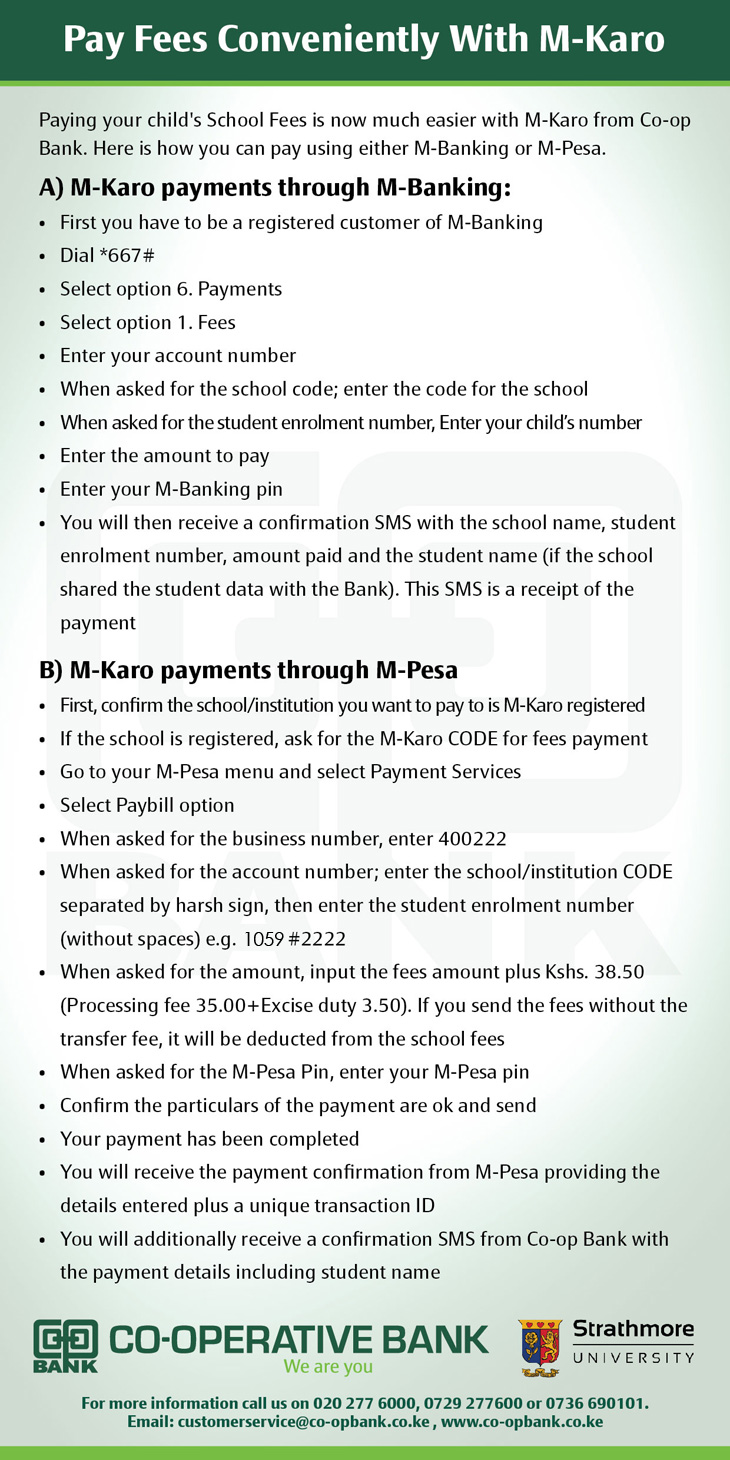 Upper Hill Branch
SBM Bank (Any Branch in Kenya)
Account Name: Strathmore University
Account Number: 0242027486004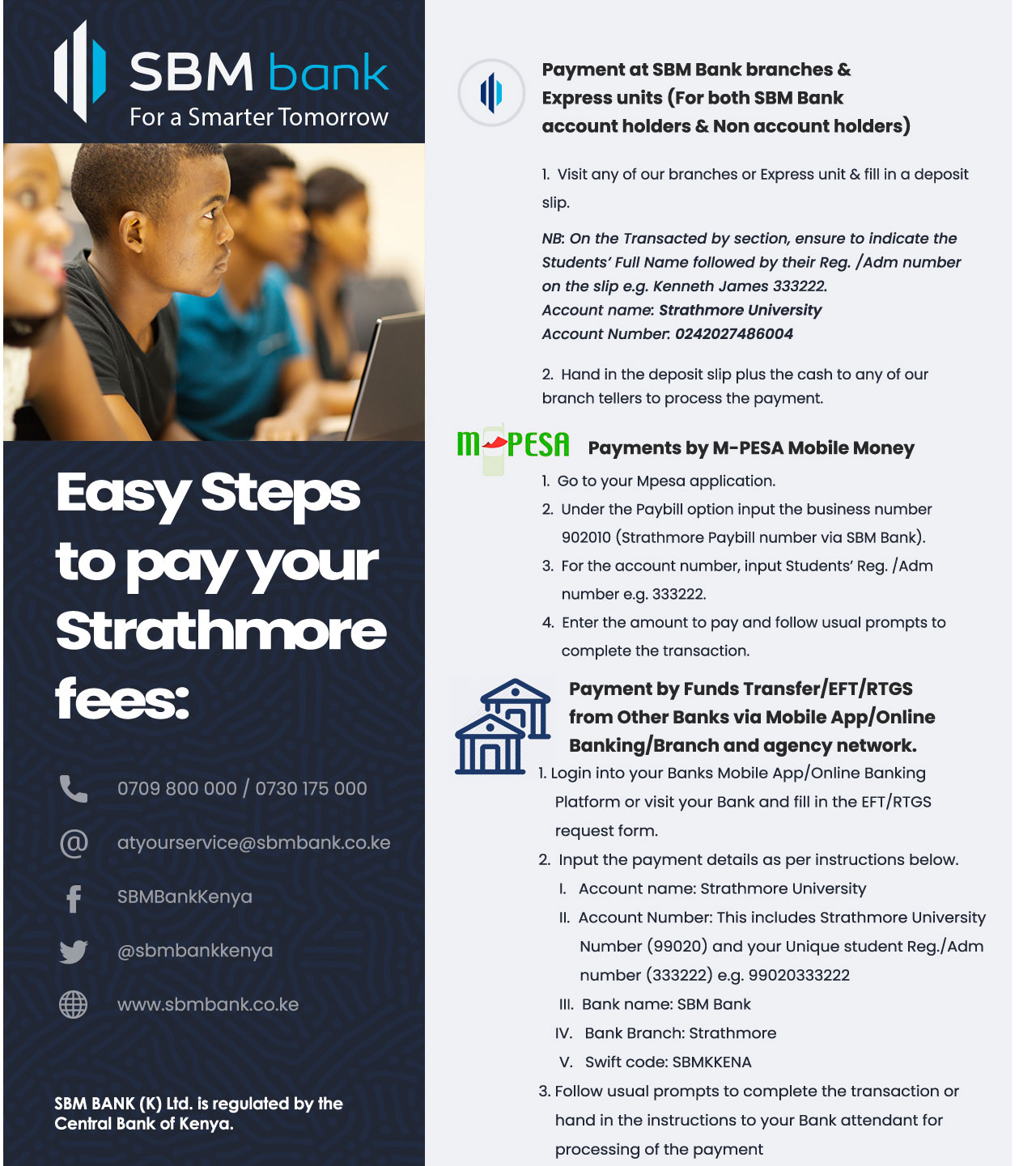 IMPORTANT NOTICE:
Upcountry cash payments should be deposited into the Standard Chartered Bank or the Co-operative Bank of Kenya or SBM Bank.
Bank deposit slips should be completed in duplicate: the top copy is kept by the bank; the second copy should be kept by the student.
Credit/ Debit Cards: We also accept payments by Credit/Debit cards — local and international. However, all payments attract a 3% levy on the total amount payable.
No cash fees, money orders, postal orders, personal cheques, company cheques or upcountry cheques will be accepted in the University.
Bankers' cheques can be receipted directly by the University Cashier. However, upcountry banker's cheques will be receipted by the University cashier on further payment of Kshs 200, being bank charges levied by our bankers.